US Ignite / STEM 360 Careers
sponsored by the National Science Foundation
Project Background
In 2018, LEVR Studios LLC received a US Ignite Application Grant through the National Science Foundation to Investigate the use of live stream 360 VR video technologies to connect learners in rural areas of North Carolina with STEM professionals and their environments while leveraging gigabit connectivity.
The primary 360 video feed was captured, streamed and hosted on LivePlanet's cloud solution and then distributed live to rural schools in the region for considerable enhancement of their current educational options. Students were able to view the live broadcast via Oculus Go headsets while leveraging a Zoom backchannel for two-way communication. Mike Cuales, VR Producer and Owner of LEVR Studios provided Technical Production while Rebekah Davis, a PhD candidate from NC State's College of Design, provided curriculum design and on-site instructional tech support at the school sites.
PARTNERS and CONTRIBUTORS:
LEVERage for STEM
We were able to leverage the immersive power of 360° Virtual Reality video to provide access to STEM professionals in the local STEM ecosystem of the Triangle/RTP. These VR experiences reduce the psychological distance between the students and STEM careers by giving them self-presence in the STEM environment. Most students who have participated already report feeling "right there" with the presenter. This first person perspective can be a powerful influence on emotions and cognition resulting in increased science affinity. We hope to further extend the STEM ecosystem by continuing to connecting experts directly with students.
OUR STEM OBJECTIVES:
Provide an informal STEM experience that influences participants' :
interest in and excitement about STEM and STEM activities (engagement)

views of themselves in the roles of STEM professionals (identity)

motivation to pursue STEM subject areas/career paths (motivation, relevance)
AVAILABLE RESOURCES: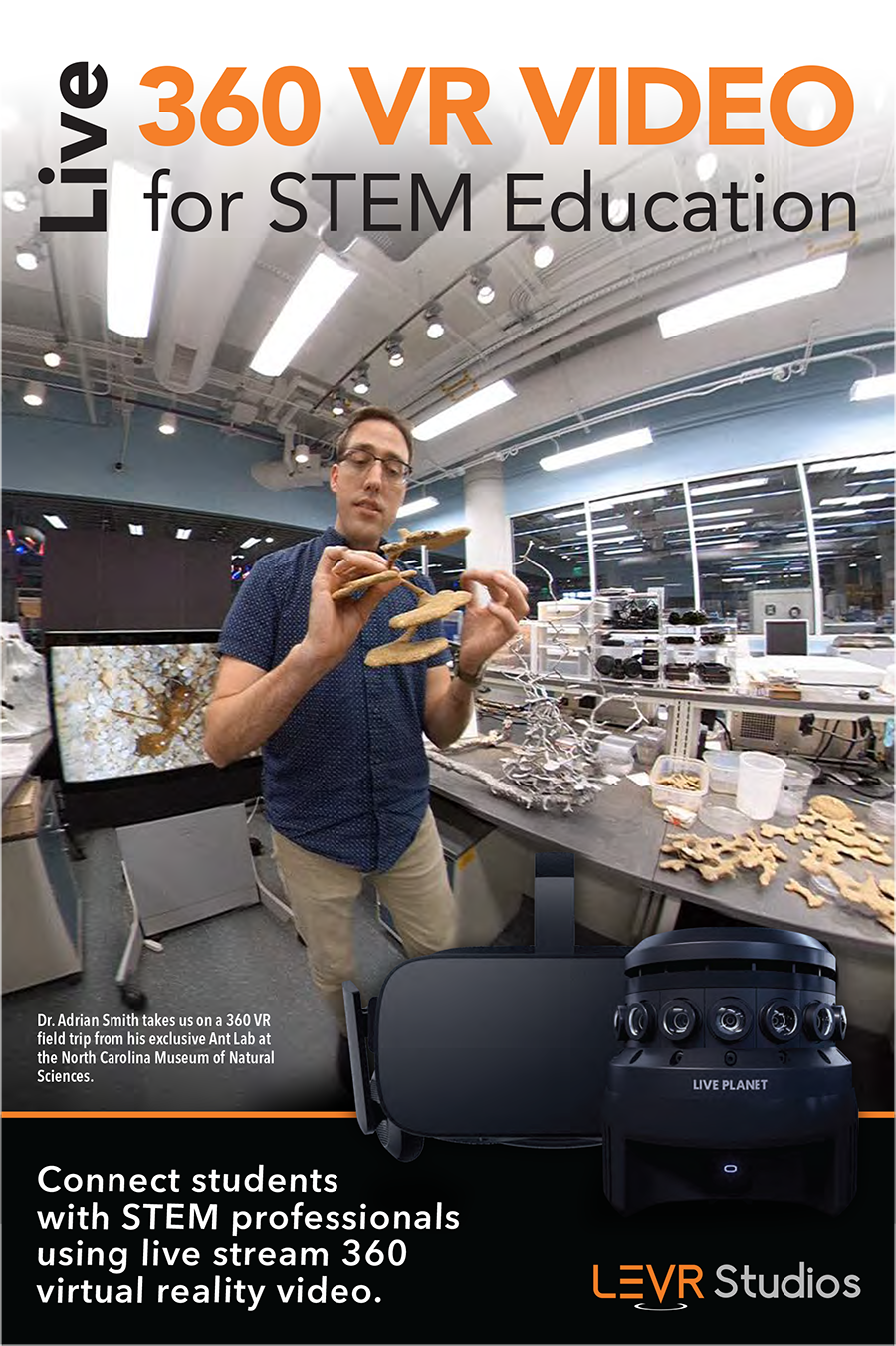 The Results
This project delivered a successful proof of concept. Live broadcast of 360° immersive video is possible with currently available network speeds, but the eventual accumulation of lag, and drag on the network was problematic. Many institutions and STEM organizations are focused on bringing equitable experiences to populations who live in rural areas, but reliable broadband is critical. The future of 5G holds more promise for some of the issues encountered on this project. However, the project did result in an efficient method for producing and distributing immersive 360 VR video while also building an engaging library of career insights from some incredible STEM professionals.
INTERESTED IN THE WHITE PAPER?
Please enter your contact info and we'll send the white paper to you as soon as it's published: